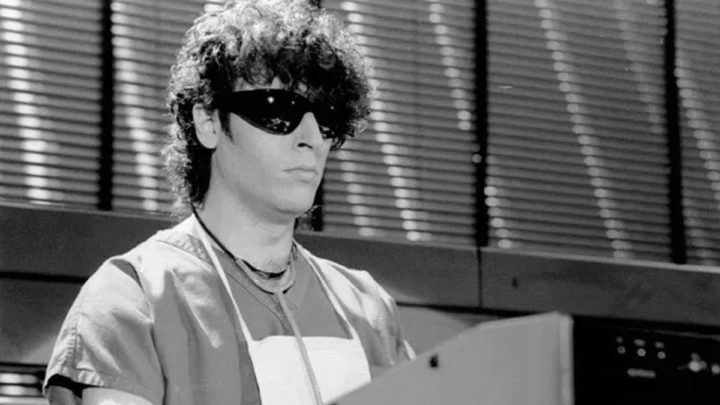 Matthew Robert Fink, better known by the stage name Doctor Fink, is an American keyboardist, record producer, and songwriter. He is best known as a member of The Revolution, the backing band for pop musician Prince. Fink won a Grammy Award in 1985 for the album Purple Rain. The recording has sold over 18 million copies since its release.
Here are the 20 selected questions & answers from the Dr. Fink questionnaire. Thanks to all who participated in this Q & A!
---
Could u tell in your own words why and how did the Revolution brake up. and what impact did it have on u?
The first part of the question should really be answered by Prince and the other people involved with the breakup. I can tell you that I was given a choice to stay or go. I stayed on as one of Prince's keyboardist's for four more years and as with any type of breakup it was hard on all of us and I missed my former bandmates a great deal.
I've seen you so many times in that Dr. outfit of yours, wearing the surgical facemask on so many video's and shows. Is this outfit something you personally choose or did Prince? And after all these years wearing this stuff, you never wanted to change your image?
The Dr. outfit did transform from basic scrubs to more funky looking ones. My favorite one was from the Love Sexy tour. When we were on tour as the opening band with Rick James, In 1980, my stage image was a guy in a jail suit. Coincidentally, Rick wore a jail suit during a song called "Busting Out of L-7." So, after a couple of shows into the tour Prince wanted me to change my image so he asked me what my other costume ideas were. I said "How about a guy in a Doctor suit?" He thought that was a great idea and sent the wardrobe people out that day to find the scrubs at a uniform shop and I have been Dr. Fink ever since.
Prince was known for mixing themes of religion and sex etc. Some of his songs have very specific religious imagery, namely Christian imagery (e.g. The Cross), while others have very overtly sexual imagery (Head etc.) How did you feel performing some of these songs? For example, I think I've read that you come from a Jewish background so what was it like performing The Cross or sexual songs? Did you own believes/values ever conflict with the lyrics or song content?
I have always respected all religions and the right of all individuals to establish a relationship with the creator of the universe and I never had a problem with the content of Prince's material. By the way, none of would be here without sex, right?
In 2000 you joined Prince on stage for a reunion concert of Prince and the Revolution during the celebration concerts. What made you decide to do it, what did you expect, and what kinda feelings did you have when you where on stage and got so many greetings from the audience?
I've always been open to jamming with Prince again and when he announced on his website that he wanted to invite any and all past members to join him for the celebration that year I called his assistant to let him know that I wanted to be there. It was wonderful being on stage with him again and getting all the nice feedback from the fans.
Who was your biggest influence musically growing up/starting out, and were you ever able to work with or jam with any of them when you "grew up" into the fantastic keyboardist you are today?
I was influenced by the British bands of the '60s like the Stones, The Beatles, and The who. R&B; and Funk artists like James Brown, Stevie Wonder and Ray Charles. 70's bands like Earth Wind and Fire, Steely Dan, Elton John, Yes and David Bowie. It was a real treat to jam with Eric Clapton at an after-show party in London. I was also able to meet and speak with several of the artists I mentioned as my influences.
What would u say is the most memorable concert u performed with Prince as part of the Revolution and how would you describe your experiences as being a member of (In my opinion) 1 of the greatest bands ever – Prince & The Revolution.
There are too many great shows to be able single one out as the most memorable. The experience of performing with Prince and the Revolution was the best time of all.
How do you feel about live bootlegs of shows you were part of being shared, do you think its acceptable if no one is making money from it?
Bootlegging is illegal isn't it? Someone is always making something off a bootleg in the beginning. I know some people can't always afford to go to a concert or buy a CD but you wouldn't like it if someone came into your store and stole merchandise you had for sale would you?
Several questions about the song 'Dirty Mind', but what about 'Head'? I always considered that keyboard solo in the middle of the song just off the hook; one of those great 80's musical moments (and it is all good on record as well as live). Did you originally come up with that sinth line? or Prince somehow explained (by singing?) to you what he wanted?
The Solo in "Head" was written in the studio by me after I played about five or six takes improvising and jamming with the track. Prince had final approval of course.
Most fans consider the Lovesexy-aftershow Prince did in The Trojan Horse Club in The Hague in the Netherlands back in 1988 his best after show. Do you remember playing that 'historical' night and do you consider it the most memorable after show yourself? Do you own a copy and do you ever listen to or watch live shows from your Prince-past yourself?
Yeah, that was a great after-show gig. I'm not sure if it was the best, but if the fans think so then it must have been. After I left the band I really didn't watch or listen to any past shows until my children were old enough and then on occasion I started to show them what I used to do.
Baby I'm A Star – the Purple Rain album version – the keyboard solo is fantastic, but one might suspect that it was not improvised but rehearsed beforehand. Did you 'write' it beforehand, make it up during the live concert, or was it added later?
The solo for Baby I'm a Star was also written much the same way as the solo in Head by jamming with the track for several takes until I got one Prince and I liked.
This question has been asked in a way, but my version of it is, "Is Prince what u would consider a good friend? Are you still friends now, or was it mainly a business thing between you both."
Even though Prince and I rarely talk to each other these days I still consider him to be a good friend.
I was wondering if the equipment that you have used with Prince was you personal choice, or was it Prince's decision what to use? Can you share a few anecdotes about that?
In the early days he had purchased a lot of the gear we used before I was in the band. I brought a few of my keyboards with me at that time. Later on I was able to make about half of the gear choices for the tours because Prince used certain keyboards in the studio that he liked and were essential to the live sound as well.
Which line-up suited you best, musically speaking? With Andre Cymone/Lisa/Bobby/Dez, with the Revolution 'round '86 (including Eric / Atlanta / Jerome / Wally / Greg / Miko), with the LoveSexy band or the last line-up you were in?
All of the musicians I worked within the various touring incarnations were excellent players and fun people to be around. However, the Revolution had a special chemistry.
Has there been any discussions, with Prince, for a Revolution reunion? Obviously there was The Celebration, and the Family Jamm, but is there any talk of a reunion either for the release of Road House Garden or for the 20th Anniversary of Purple Rain, or both!?
Prince hasn't spoken to me about any reunions. Hopefully it isn't out of the question though.
During an '86 show Prince tells the audience that the show is being taped and will be a record. Of course, it was just another aborted project. Can you shed any light on some musical projects that aren't as well-known as say, the proposed album The Dream Factory, which never reached fruition (or rather was finished but not released). Perhaps Prince was seriously making a concept album at one stage? Maybe a side project between you guys along the lines of Madhouse…

I'm afraid I can't shed any light on the subject because I don't know.
During the 80s and 90s Prince clearly circled the wagon and limited the input from external musicians (those not part of the Prince Camp)…despite the fact that he clearly was influenced by many. Do you feel that hurt or helped the creative process? What musicians would you have liked to work with during your time period with Prince? What others were you close to working with that fell through?
Prince had his way of doing things and whether that helped or hurt him I don't know. He is so prolific that the ideas flowed 24/7 and as we all know has written some of the best songs in pop music.
While I was working for Prince I never had that much of a desire to work with other artists. However, I did session work for some artists when there was downtime in between tours like the Jets and Lipps Inc. After Prince disbanded The Revolution in 1986 I was contacted by Bob Seger and Terry Nunn of Berlin to do some recording and touring with their respective bands. They thought I had been let go, but I had to turn them down because I had made the decision to stay with Prince.
After leaving Prince I was asked if I would be interested in doing Maxwell's first tour in 1994. I was too busy in the studio at that time so I declined. A couple of years ago I did some gigs around the Twin Cities with Phil Solem from the Rembrandt's. Last spring I was offered a gig with Ashanti but it fell through when the Mariah Carey tour she was supposed to be within the U. S. was canceled. Just recently I started work on a recording project with Kris Vanderheyden from Brussels.
While on tour with Prince, did you meet any other great musicians? I know you met George Clinton and Sting etc. Did you have any fun/cool conversations with them? Give me your best story…
Once at an after-show party in London My wife and I sat down with Mick Jagger and Jeri Hall for drinks and a nice conversation about the show earlier that evening at Wembley arena.
What is your favourite keyboard solo – my personal one has to be Head but you must have a "fave".
The "Head" solo is one of my favorites too.
Could you describe your early synthesizer setup with prince pre-purple rain? Was there any sequencing at all done in sync with the drum machine?
Oberheim OBX-A, Arp Omni, Yamaha CP-70 electric grand piano and an ARP Pro soloist. The only song that ever had any sequencing during the twelve years I performed with Prince was "I would Die For You." I used to lock the sequencer on my MemoryMoog synth to do the bass part with Bobby Z.'s Linn LM-1 Drum machine which had been modified to receive MIDI.
If you could put a band together, with any amount of artists of your choice who would be in the band?
That's a tough one. Let's see, hmmm…… Jimi Hendrix and Jeff Beck on guitars, Jaco Pastorius on bass, Sheila E. on drums, Herbie Hancock on keys, Clarence Clemmons and Eric Leeds on sax and Annie Lennox, Aretha Franklin and Al Green on vocals. I think I left out at least twenty other choices on my list. Over and out.
— Housequake